PLACES OF MEMORY AND THE FREEDOM OF REMEMBERING. OPENING PRESENTATION AT THE WORKSHOP "CONTESTED PLACES OF MEMORY IN UKRAINE IN A MIRROR OF GERMAN, POLISH, UKRAINIAN AND RUSSIAN LITERATURE AND HISTORIOGRAPHY".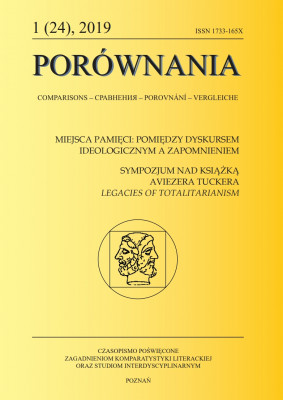 Ievgeniia Voloshchuk
The article outlines the central aspects and controversial issues of contemporary cultural representations of contested places of memory in Ukraine. Citing some specific examples, the author traces the processes of instrumentalization of contested places of memory for the newest rewriting of Ukrainian history, their (re)coding within the national discourse and within the "polyphonic" space of a multinational state, as well as their transformation under the sway of ideological censorship and/or "war of memories". For this purpose, special attention is paid to the interrelations between the discourse on contested places of memory in Ukraine, the concept of "Europeanness", identity projects of Eastern European countries, emergent "images of the past" and imagological stereotypes.